February 22, 2022
The Best Oakley Cycling Glasses of 2022: Safety Protection Glasses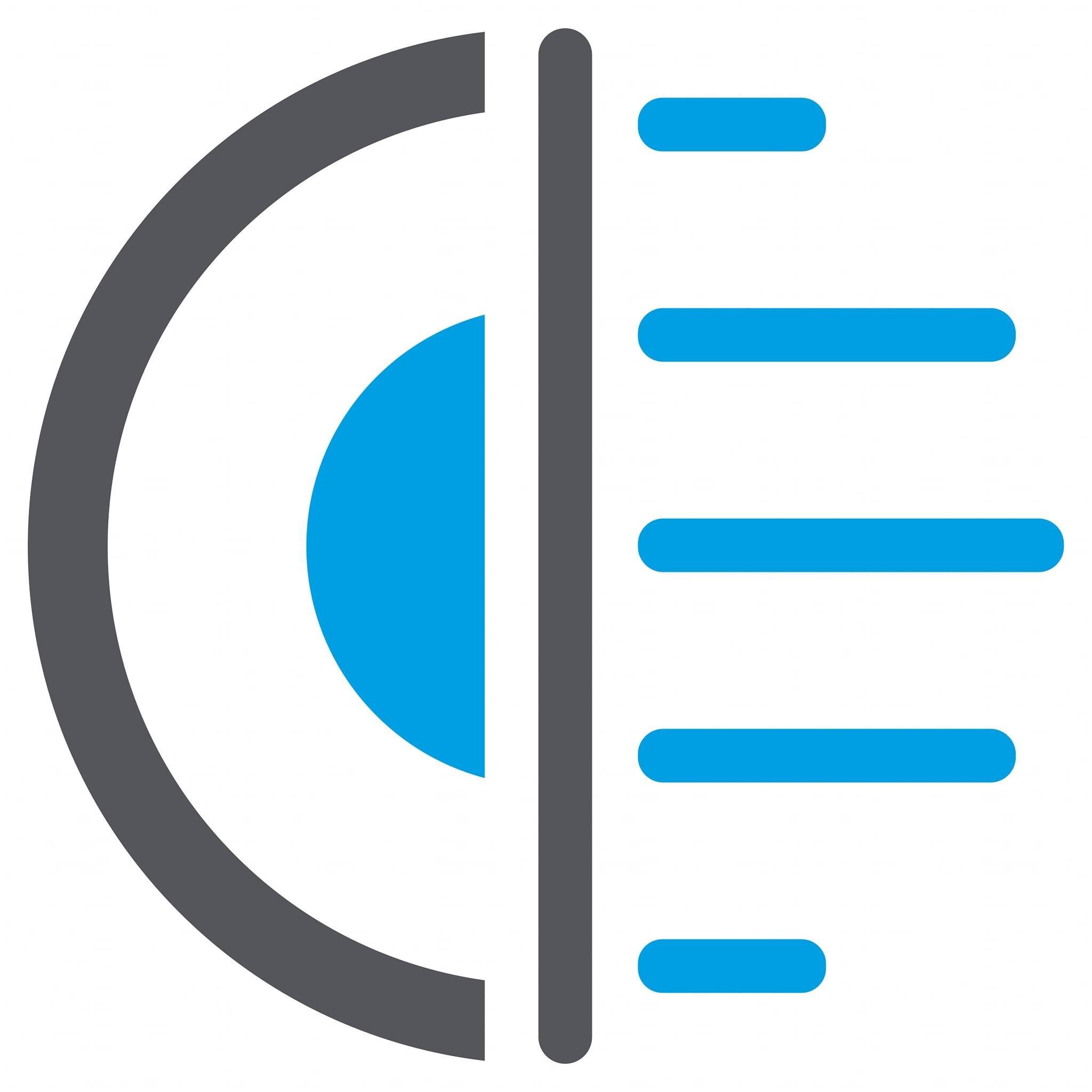 02/17/2022 – Belfast, Northern Ireland, UK: When you hear the name Oakley, you know that it personifies glasses frames that exude quality craftsmanship with style. You probably only think of them as high-performing sunglasses, but they cover a wide variety of sectors, including making some top-of-the-range cycling glasses.
Getting yourself a pair of Oakley cycling glasses will help with your extreme endurance and athleticism needed for cycling.
You don't want anything in between you and your cycling tournament or even just another day practicing. Getting the right type of cycling glasses will help improve your vision and reduce surrounding distractions that can be the difference between winning and losing.
Oakley Radar EV Path Sunglasses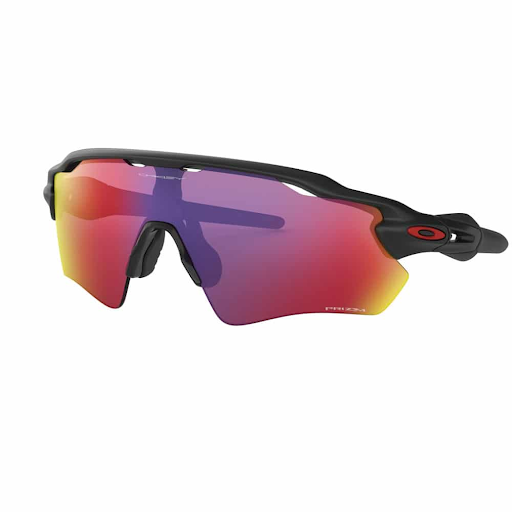 Our top-of-the-line cycling glasses for the enthusiast and professional alike. With nearly two dozen options to choose from, you're bound to find the right style to match the rest of your outfit. There's no harm in having a matching set between the rest of your cycling gear and your cycling glasses.
Decades of research went into the shape, style, design, and materials used in these cycling glasses. These also come with a simple and lightweight construction through Oakley's manufacturing process related to Lightweight O Matter™ material.
They also come well equipped with water-resistant rubber for the nose pad and temple areas so they don't wear and tear due to the unavoidable sweat coming out.
The lenses themselves also vary based on the selection chosen. They can be the Oakley Polarized and Iridium™ lenses or with their Prizm™ lenses. These will help remove that glare and protect your eyes from multiple UV rays types. As with all Oakley's, these come with a hard case to protect them when not in use.
Oakley EVZERO Range Sunglasses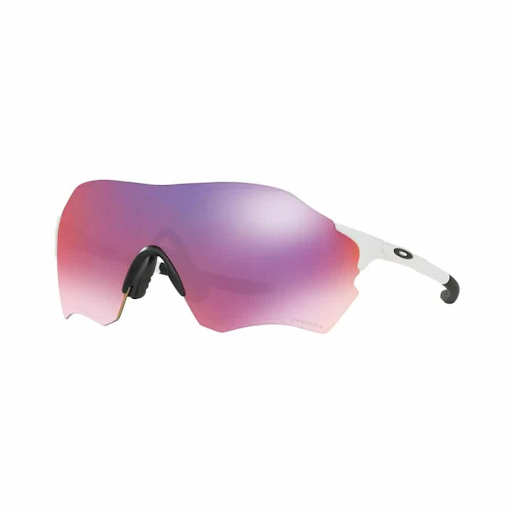 Another great cycling option. The EVZERO Range maintains the Oakley standard of high-performance and lightweight cycling glasses. These are also a great backup pair of sunglasses to have when you're enjoying the weather instead of cycling through it.
They have complete 100% UV protection against UVA, UVB, and UVC radiation. Just in case you want to look at your computer screen on the beach or your phone, these sunglasses also block out that annoying blue light as well.
This range comes with its own specialized rimless shield known as Plutonite® and helps provide a more comprehensive covering and protection, while still maintaining how lightweight it is.
It's built for durability as all cycling glasses should be and has numerous protective factors so you won't feel pressure or have unsightly sunglasses marks at the end of a long day of cycling and bearing the heat.
These sunglasses will have a tough time coming off with their multiple points of fitting and no-slip grip nose pads. The only reason you'll remember wearing them is the tint they provide.
Oakley Industrial M-Frame® Glasses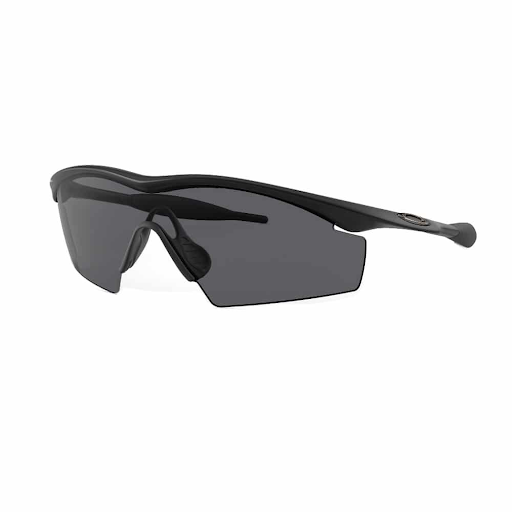 The Oakley M-Frame® Glasses are a great option as lower-cost cycling glasses. These cycling glasses meet both the ANSI Z87.1 and MIL PRF-31013 fragmentation impact standards, so they're perfect for that random dirt and debris that can strike your face while cycling. They also have the same lightweight material design with three shields of Plutonite®.
They come in a grey lens coloring which is perfect for filtering out blue light and protecting your eyes against UV rays and bright lights. They also come with a clear lenses type that is great for low and no light vision scenarios with their razor-sharp clarity and high light transmittance.
These frames are perfect as cycling glasses day or night and are easy to swap out the lenses for the ones that are needed most (based on the time of day).
10% OFF on All Products. Do not hesitate to contact our sales team who are best placed to advise you on what you might need for your industry. Get in touch at info@safetyprotectionglasses.com or call +44 2890 994 190 if you've any queries.
About Us: Safety Protection Glasses, your number one source for safety glasses. Safety Protection Glasses carries a wide variety of protective eyewear including; Laser Safety Glasses, Radiation Safety Glasses, X-ray glasses, Glassworking eyewear, Welding safety glasses, General safety, and Prescription eyewear. Safety Protection Glasses are one of the UK's largest safety protection glasses manufacturers partnered with Phillips Safety Products, we operate as their European partner. Using quality CNC edging facilities, we can offer the highest quality prescriptions in a variety of frames. We're dedicated to giving you the very best lenses and range of frames for your sector, with a focus on safety, dependability, and customer service.
Like us: https://www.facebook.com/SafetyProtectionGlasses/
Follow us: https://www.instagram.com/safetyprotectionglasses/ and https://www.pinterest.co.uk/SPGGlasses/
Subscribe us: https://www.youtube.com/channel/UC0J43ilfsQruKIOxqMQc0Gw/videos
Contact Detail:
Company Name: Safety Protection Glasses
Contact Person: Ryan Phillips
Email: Send Email
Phone No: +44 2890 994 190
Address: Unit 11, Agnes Street Industrial Estate, Belfast, BT13 1GB
State: Northern Ireland
Country: United Kingdom
Website Url: https://safetyprotectionglasses.com/


Source: www.PRExhibition.com