May 20, 2022
Safety Glasses for Lampworking – Selection for 2022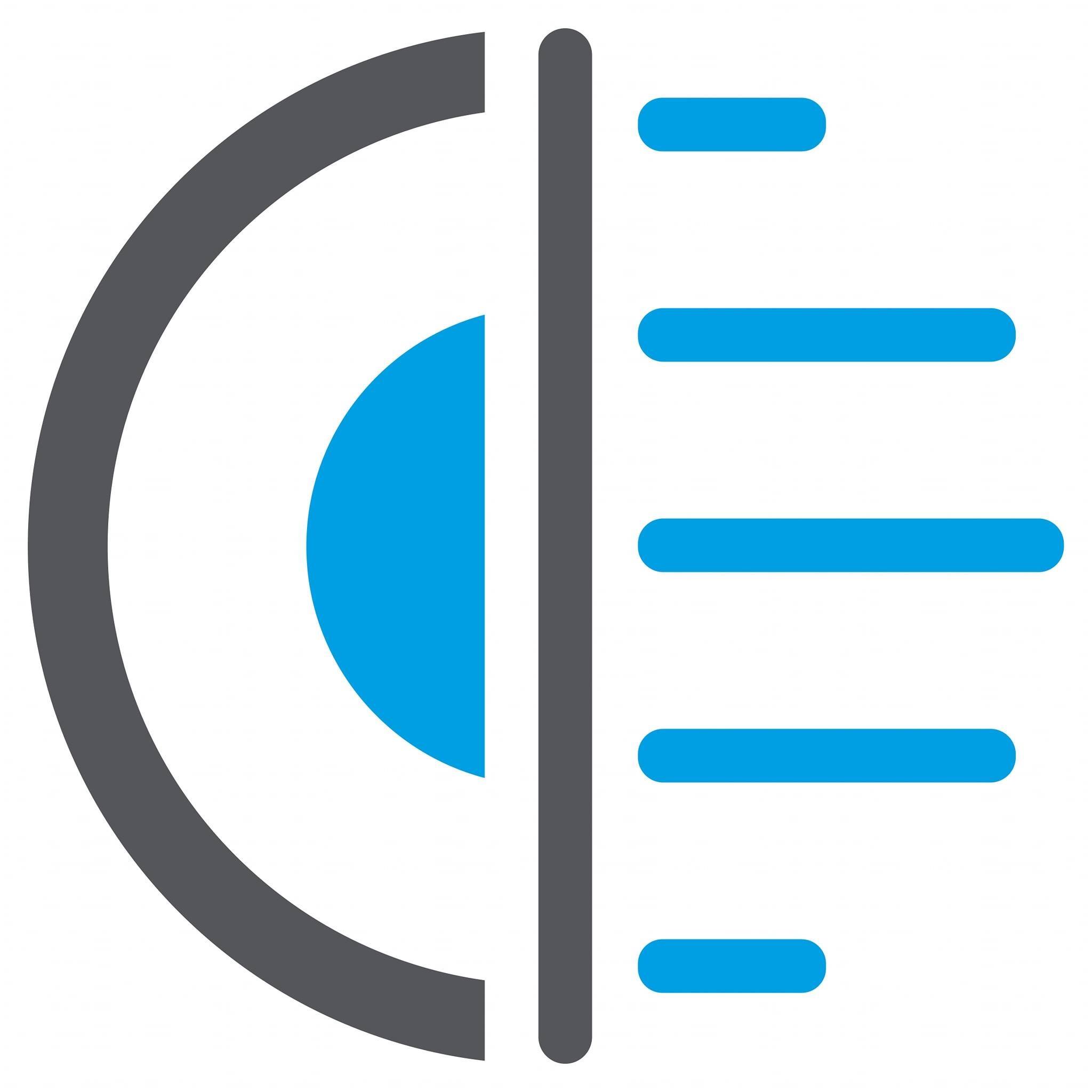 05/20/2022 – Belfast, Northern Ireland, UK: Lampworking is slightly different than glassblowing. Glassblowing is about shaping the core foundational product through the transformation of sand and head. There are large furnaces and big metal rods all there to support everything.
Lampworking is almost surgical in its relation to glassblowing. It originated from using an actual oil lamp to heat the glass to shape it. Now modern torches are used to heat the glass and have the experts shape the glass into the beautiful designs we see today.
Whether it's merging two different glass colors together or creating quality details such as leaves, flowers, and roses, lampworking requires close attention and proximity to the flame source, both the heat and the light. With that said, it's essential to have the correct type of safety glasses to protect your vision against those flames.
Safety Protection Glasses has you covered and has an offering that combines safety against the heat but, more critically, the highest VLT rates on the market. This means you can see your work and have your eyes protected from that brightness.
We have a range of recommendations to fit all the different needs a lampworker might need.
Glassworking Safety Glasses – Sodium Flare Polycarbonate, Model Q368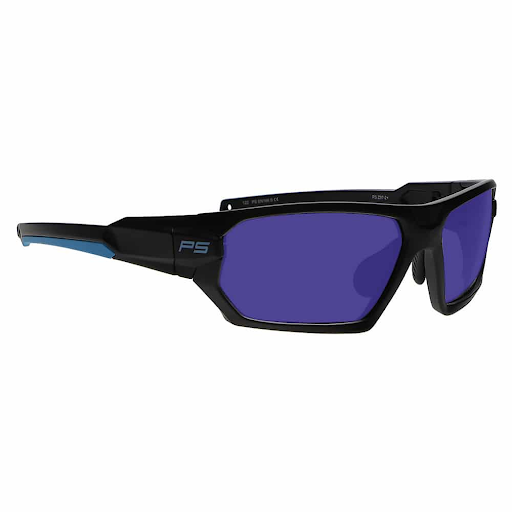 The first safety glasses model we will discuss for both glass working, and lampworking safety is our standard Model Q368. These will shield your eyes against the glare of the torch and lampworking, similar to how traditional welder's glasses will protect your vision.
They will provide a solid and sharp clarity, but the luminous transmissions are down at 38%. They're meant to be for day-to-day workhorse usage and come with highly durable TR-90 nylon construction, a staple option in our safety glasses range. The frames themselves come in a black and blue finish and adjustable nose pads to help make the best shape and frame for your face.
Glassworking Safety Glasses – BoroTruView 3.0, Model 15011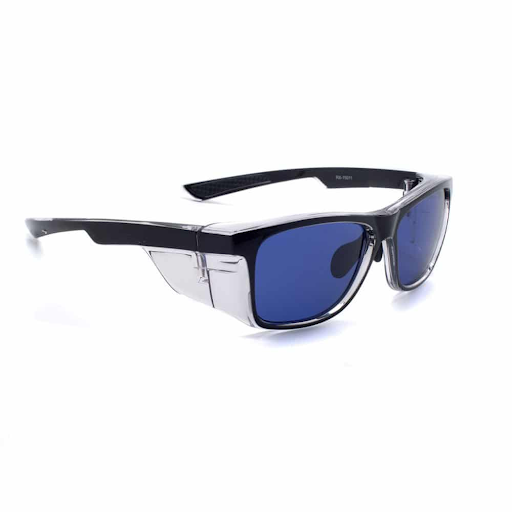 These frames come with side protection against the sparks that might fly during lampworking. The Model 15011 really shines due to its BoroTruView 3.0 lenses. These offer maximum UV and Infrared protection when working. The infrared itself is in a neutral color, meaning that while it's giving the protection you'll need, it's not distorting the colors that you're working with.
This feature keeps the vibrance and distinction of the colors alive and the flame colors true so you can work with the level of detail needed for smaller pieces. Having these safety glasses with these lightweight polycarbonate frames will mean you can work with minimal eye fatigue throughout the day.
Model JY7 Glassworking Safety Glasses – BoroTruView 5.0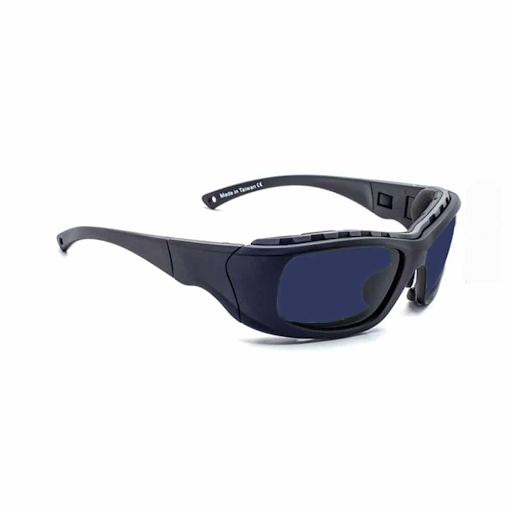 For those working with larger glassworking or lampworking pieces, then grabbing a pair of the Model J7Y safety glasses should help. They offer the same color visibility as their BoroTruView 3.0 counterparts but can operate in harsher conditions with more difficult glass, which requires higher temperatures to mold properly.
However, they offer the maximum protection against UV and IR and are there when the foundation of glass working begins. In addition, these glass working safety glasses have a nice wrap-around safety feature to ensure they stay on comfortably all day without causing any pressure pain.
There are also detachable foam gaskets and can be used only when needed in high particle or debris locations. At the same time, these safety glasses have ANSI Z87.1-2003 certification adding that additional impact protection that you may need from time to time.
Our frames are also scrutinized by local glassworkers who recommend them for their functionality, durability, and flexibility. Get in touch at info@safetyprotectionglasses.com or call +44 2890 994 190 if you've any queries.
About Us: Safety Protection Glasses, is your number one source for safety glasses. Safety Protection Glasses carries a wide variety of protective eyewear including; Laser Safety Glasses, Radiation Safety Glasses, X-ray glasses, Glassworking eyewear, Welding safety glasses, General safety, and Prescription eyewear. Safety Protection Glasses are one of the UK's largest safety protection glasses manufacturers partnered with Phillips Safety Products, we operate as their European partner. Using quality CNC edging facilities, we can offer the highest quality prescriptions in a variety of frames. We're dedicated to giving you the very best lenses and range of frames for your sector, with a focus on safety, dependability, and customer service.
Like us: https://www.facebook.com/SafetyProtectionGlasses/
Follow us: https://www.instagram.com/safetyprotectionglasses/ and https://www.pinterest.co.uk/SPGGlasses/
Subscribe us: https://www.youtube.com/channel/UC0J43ilfsQruKIOxqMQc0Gw/videos
Contact Detail:
Company Name: Safety Protection Glasses
Contact Person: Ryan Phillips
Email: Send Email
Phone No: +44 2890 994 190
Address: Unit 11, Agnes Street Industrial Estate, Belfast, BT13 1GB
State: Northern Ireland
Country: United Kingdom
Website Url: https://safetyprotectionglasses.com/


Source: www.PRExhibition.com