October 18, 2016
Affordable Expanded Chrome Tools for Special Ed Students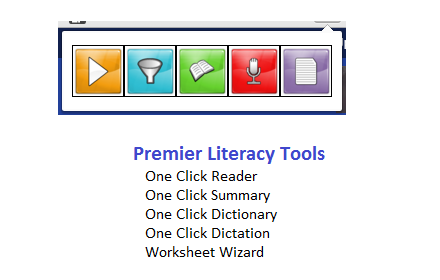 "We have a very tight budget and with Premier Tools we can still accommodate our students." Said K Sullivan "but the real selling point was that the students could use the tools on their home computer with no extra charge."
Summary:Premier Chrome Toolbar is a robust toolbox of affordable assistive technologies that helps students with reading and writing. Students will have access to the tools they need in the class room and at home. Premier makes Google for Education accessible to those students with literacy challenges.
With the expanding presence of Google Chrome in today's classrooms, Premier Literacy's Toolbar for Google Chrome 2.0 is not only an ideal low-cost solution for students that require learning accommodations, but also provides powerful learning tools that are well-suited for ALL students in the Chrome environment. With the recent addition of the Talking Pointer and Talking Word Processor, Premier's Toolbar for Google Chrome now includes 7 powerful literacy applications that can be used for a multitude of daily tasks and assignments in the digital classroom. The new Premier Chrome literacy suite also includes Dictation, Word Prediction, Writing Analytics and Dictionary features in multiple tools.
Premier Literacy once again demonstrates its vast experience from over 15 years of designing and developing assistive technology. The Premier Toolbar for Chrome is the latest in a proven history of task-orientated learning tools being used at all levels in schools across the U.S. and Canada, including K-12 and post-secondary institutions. The Premier Toolbar Extension is a convenient way to access all of the Premier Literacy Tools for Google Chrome.
With an easy-to-use license from Premier, you'll be able to use any of these tools across multiple platforms such as Chromebooks, PCs, and Macs from anywhere using the Chrome browser. Using only a single login, you can quickly gain access to any of these applications: One Click Reader, One Click Dictionary, One Click Summary, One Click Dictation, Worksheet Wizard, Talking Word Processor and Talking Pointer. The following quick recap briefly highlights the benefits of these tools.
One Click Reader: To have any text read aloud with highlighted tracking, simply select text from any webpage or document and click the Reader icon. You can even change the voice, the speaking rate, and other personalized reading features.
One Click Dictionary: Definitions at your fingertips! Select any word from text you are viewing and click the Dictionary icon to get the definition or have it read aloud to you. You can even speak to the Dictionary and have it look up any word!! In fact, speaking to your Dictionary can go far beyond traditional word prediction. The One Click Dictionary also combines the power of a Thesaurus and Interlink vocabulary for superior writing assistance.
One Click Dictation: Why type when you can just talk? One Click Dictation is one of our newest and most exciting features that actually lets you talk instead of type! In fact, there's no need to "train" it for your voice. This is just as powerful as those "expensive" Speech-To-Text applications, but without the expensive price. With outstanding accuracy, One Click Dictation even handles different spellings for U.S. and Canadian English. You can proofread your dictated text aloud and copy it into any other application such as email, word processing or an online forum such as social media!
Worksheet Wizard: As the name implies, Worksheet Wizard is a great tool for working with any type of worksheet including tests, quizzes, homework and even special forms. Simply access PDF files from any source (including scanners or phone apps) and load them into Worksheet Wizard. Flexible capabilities allow you to have text read aloud to you; edit text; copy and paste graphics; add annotations; and the save your changes directly to the PDF file. It includes robust word prediction and even has the ability to use dictation for text input to any part of a document.
One Click Summary: If you need to focus on the most important information in an article, Premier's unique Summary technology is the tool for you. Select any amount of text from a passage and within seconds you can have the summarized version of the text read aloud to you. One Click Summary makes quick work of studying and research involving large amounts of information.
Talking Pointer: The popular Premier Talking Pointer is great for reading web content. It converts your mouse pointer into a reading tool – simply point and listen.
Talking Word Processor: The Talking Word Processor is a comprehensive word processor that can handle a wide variety of document types, including PDF files. It includes word prediction, spell check, content summarization, built-in dictation, and an integrated dictionary / thesaurus.
FREE TRIAL. So you can judge for yourself, we offer a free 30-day the Premier Toolbar for Chrome.
Go to the Premier Literacy website at http://www.readingmadeez.com/purchasing.php and following the instructions to visit the Google Chrome Store to download the Toolbar and setup your own account.
written by Apollo Press Release – www.apollopressrelease.com

Contact Detail:
Company Name: Premier Literacy
Contact Person: Ken Grisham
Email: info@readingmadeeasy.com
Phone No: 815-927-7390
Address: 1309 N. Willaim St
City: Joliet
State: IL

Country: United States
Website Url: www.readingmadeeasy.com


Source: www.PRExhibition.com