June 6, 2017
Trade Publisher Questions 'PC Administrations,' Calls DOJ to Investigate Manufactured Housing Institute (MHI) for Anti-Trust Allegations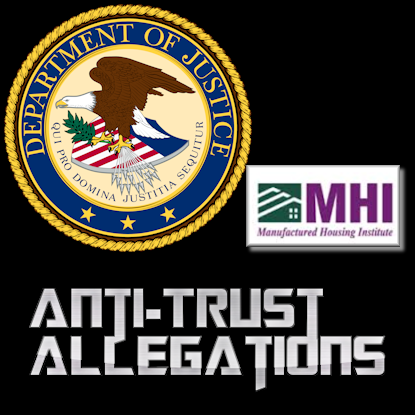 "You would never see the NAHB, or another national trade association do," something like that… – Titus Dare, SVP, Eagle One Financial.
In a report and analysis by European educated Iranian-American, Soheyla Kovach, the co-founder of MHLivingNews.com and MHProNews.com takes a surprising swipe at what she sees as politically correct presidential administrations of both major parties, along with her industry's largest national trade body, the Manufactured Housing Institute (MHI).
Kovach lays out her 15 bullets case for the need to "drain the swamp" in Washington among Democratic and Republican leaders, who she states put special-interests ahead of the good of most Americans.
She also alleges a variety of actions and inactions by MHI that contributed to the consolidation or closing of thousands of independent operations.
Kovach takes aim at Keith Olbermann, who used the pejorative "trailer park trash," which MHI remained mute on, but which the Manufactured Housing Association for Regulatory Reform (MHARR) strenuously objected to immediately.
She carefully avoids disparaging everyone at MHI, and notes that most of their members and thousands of non-member independents are good, honest business professionals. She also notes that others in the industry – including MHI members – have raised similar concerns, as has Doug Ryan with consumer advocacy group, CFED.
Kovach cites Frank Rolfe calling out MHI's "hypocrisy," and notes that Rolfe pointed out how the prior MHI chairman was being sued by his own customers.
While using the phrase, "allegation," she documents and links numerous concerns, including a claim that a number of attorneys they contacted about MHI practices thought there could be grounds for a RICO and other legal suits.
She states that 1.5 million jobs could be created in about 5 years, by following existing law, citing the need for the Trump Administration to fully implement Manufactured Housing Improvement Act of 2000.
Kovach's blunt, colorful, fact-laced 15 point analysis is linked here. ##
Contact Detail:
Company Name: MHProNews.com
Contact Person: L.A.'Tony' Kovach
Email: tony@mhmsm.com
Phone No: 8632134090
Address: 4210 Arietta Lane
City: Lakeland
State: Florida
Website Url: www.MHProNews.com


Source: www.PRExhibition.com