August 2, 2017
"Po-Dunk" Performer, Millionaire Kid Rock Eyes Senate Run, Loves his Manufactured Home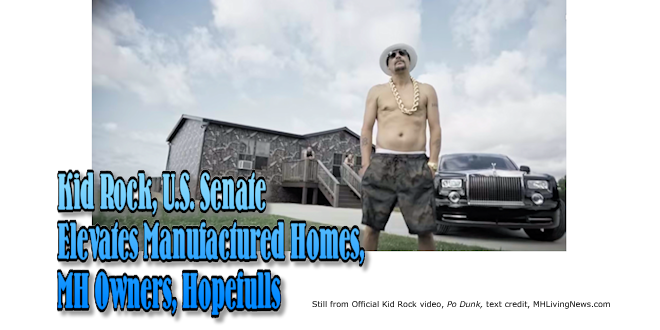 "Love us if you can, sorry if you can't." – Kid Rock.
"I'm a very impatient person. It comes delivered to the door in two weeks. You can customize a few things in there as you go along. You can put a cool wrap on it. I wrapped mine in mossy oak. Very easy to clean. Simplicity at its finest," Kid Rock told Dan Rather on his show called "The Big Interview," as he described the manufactured home that he loves.
"You see a lot of people in my business," Kid Rock said. "You go to these houses and I go where do you start in this thing? Like, how many times do you use the movie theater? I've built one. I maybe went in there once."
Since announcing his interest in the U.S. Senate seat currently held by Debbie Stabenow (D-MI), performer Kid Rock has released two music videos.
In "Po-Dunk," Kid Rockspotlights his own manufactured home, with his Rolls Royce parked in front.
That same video features the "po" – poor – who are often misunderstood and forgotten today. In the background of those Bible-loving, flag-waving, gun-toting, hard-working citizens, the video depicts some as living in older manufactured homes.
Interestingly, the New York Times said that many manufactured home owners tilted toward Donald Trump in the 2016 campaign. MHLivingNews surveyed signage posted in an upscale manufactured home community during the campaign last year, and that indicator also favored America's 45th president.
Kid Rock, whose given name is Robert James Ritchie, is a country-rock-rap artist worth an estimated $80 million. He's a President Trump supporter, and sells Trump gear on his website.
In many ways, they're both targeting the frustrated, and forgotten.
Rock's Po-Dunk video show blacks and whites, often depicted as dirty. Clips juxtapose them with a pig. As an English professor might opine, that's a storytelling method.
"Love us if you can, sorry if you can't," says a verse in Rock's lyrics in the video.
Early Polling
Early polling in the campaign is split. Some show Rock up, another survey reflects a Stabenow lead. He leads potential GOP rivals by double-digits. Prior to a formal announcement – which the entertainer says could happen at a press conference in about 6 weeks – he's planning voter registration at his events. He
"I was beyond overwhelmed with the response I received from community leaders, D.C. pundits, and blue-collar folks that are just simply tired of the extreme left and right bulls**t," the singer said.
Several factory-built home professionals believe that Kid Rock could mobilize the hundreds of thousands of manufactured home voters in his state.
"He would be an ally for those who advocate for respect for manufactured homes, and those who choose that lifestyle if he wanted to be," said the actively retired businessman and minister, Donald Tye, Jr.
A new report looks at how Kid Rock's video and candidacy could impact the need for – and acceptance of – manufactured homes. As the affordable housing crisis spreads, manufactured homes are the solution that's hiding in plain sight. When millionaires like Kid Rock embrace them, as do the lower and middle incomes, isn't it time for public officials to take a good look? There are also more details on reactions to his candidacy – all part of a report by Julia Granowicz on MHLivingNews, linked here. ##
About LifeStyle Factory Homes, LLC – DBA MHLivingNews.com and MHProNews.com.
"Factory-built cars.
Factory-finished clothing.
Factory made appliances and electronics.
Factory made cells, smart phones, tablets, and computers.
Factory-crafted homes…it just follows, doesn't it?" ©
MHLivingNews.com and MHProNews.com are the leading trade publications for consumers, manufactured homeowners, MH industry leaders, investors and public policy professionals who want up-to-date lifestyle and business news.
Contact Detail:
Company Name: MHProNews.com
Contact Person: L.A.'Tony' Kovach
Email: tony@mhmsm.com
Phone No: 8632134090
Address: 4210 Arietta Lane
City: Lakeland
State: Florida
Country: United States
Website Url: www.MHProNews.com

Source: www.PRExhibition.com